Have you ever wonder what it is like, to live on the streets with no one to turn to? Can you imagine growing up with no education at all?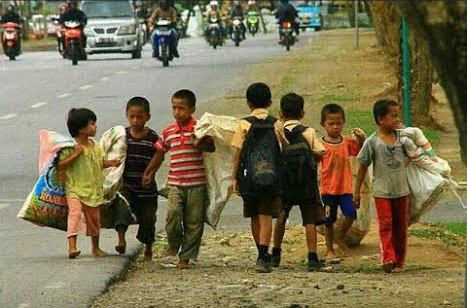 This is the life experienced by many young people around the world.
There are 263 million children and youth who do not have access to education globally. In my country, Indonesia, there are 7 million young people who do not attend school.
I am Talitha, from Solve Education!.
We develop an educational game app to improve the livelihood of more than 20 million disadvantaged young people in Indonesia by linking education and employment via Solve Employment!, our job portal.
There is a brief background of myself: Growing up, I was a working child because my mum died when I was young and I had to take care of my younger brothers. I was almost denied access to secondary school because of money. So, I had to beg for money until one distant relative agreed to pay for my school tuition. Because of all these barriers, I really needed to push myself and work harder than everyone else, in order to get my high school diploma. I am also grateful to have the opportunity to study and earn my degrees in the US, and the UK.
This is Wina (not her real name), she is our user. She is 28 with a 13 year old daughter and do not have a high school diploma. Because of her family's financial situation, she was married off when she was a teenager. And sadly Wina got divorce soon after having her first child, and is now working as a nanny as she had not received much education. Her dream is to get a decent job and get a high school diploma.
These are just an example of difficult conditions that Indonesian children need to face. I was lucky to meet that one person helping me with my tuition, Wina wasn't. But luck is not the solution we are looking for. Luck will not help them. As an educated Indonesian, I feel obliged to do something to help.
With your help, we will be able to send our team members down to the communities in the remote areas of Java island, to roll out our educational tool to the marginalised young people and give them a chance to be educated for a more decent and secure future.
IF YOU DONATE NOW,  SINGTEL WILL MATCH YOUR CONTRIBUTION! (Up to S$10,000)
Our campaign target is $20,000 - so that means that if we gather 100 people to donate $100 each, we can reach this goal with Singtel's help! 100% of funds raised go towards providing education to these young people who do not have access to schools.
We can't do this alone. We need your help to make a difference.
With each donation of $100 and above, we will send a Solve Education! T-shirt to you, as a token of our appreciation. The t-shirt is kindly provided by our sponsors.
Please help us spread this news via Facebook, Whatsapp.
For more information about us, please visit www.solveeducation.org. You can also reach out to us with your questions at (email hidden)
If you are looking to reduce your operating expenses by outsourcing, please do not hesitate to contact us as well ((email hidden) ).
Singtel is supporting this crowdfunding campaign with a 1-for-1 matching (up to S$10,000) as part of the Singtel Future Makers social innovation programme. To find out more about Singtel Future Makers, please visit https://futuremakers.singtel.com